Gough Engineering has always recognised the importance of maintaining a Trial facility to help identify the correct equipment for your production needs. We have a range of process equipment supported by a larger selection of mesh frames or perforated plates (subject to availability of mesh rings sizes, charges may apply for specific non-standard meshes).

Equipment
The equipment available (depending on availability) includes:
Gough Batch Sieve (GBS)

Gough Vibrecon Separator (GVC)

Gough Vibraflo Separator (GVF)

Linear Vibratory Screens (GLVS 1 or 2 deck)

Hopper and vibratory Feeder (GLVF)

Selection of wire screen meshes

Selection of Perforated Plates

Selection of Hook Screen meshes for linear screens

Selection of drop in or integrated decks for GVC



Gough can also provide gauss measurement and advise on magnet bars used for removing of ferrous metals.
The choice of handling equipment for your production lines can depend on varying factors. Material particles and properties, material behaviour over different surface sieving/separating and handling designs, vibratory motion type, drive mechanism choices, general surface quality, Stainless Steel selection and applying design principles in e.g. meeting ATEX regulations – all play a part.
At Gough Engineering, with its own in-house design team and years of experience, we can provide expert application knowledge in designing and manufacturing the right solution for your material handling requirements.
Test & Trial Choice
As part of our continued support to industry, Gough can arrange in-house testing at our site in Staffordshire where you can meet our team and witness the tests for yourself. Or, we can perform the test and provide you the results and videos based on samples delivered directly to us.
Trial Process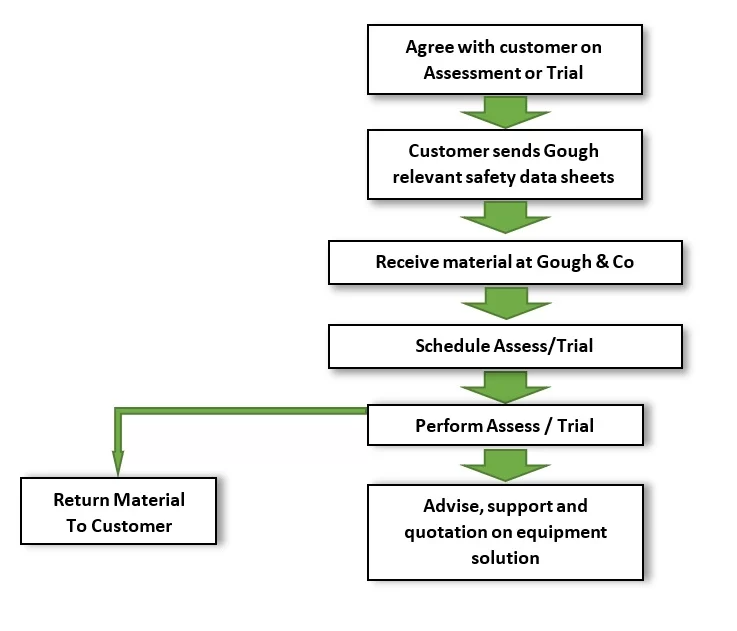 Gough Test Facility
Please find on the right a few images of the Trial Facility at Gough Engineering
Material Assessment & Trials Requirements
Small samples can be sent to Gough Engineering for analysis and assessment without an actual trial. These can be delivered to Gough Engineering in small sample bags. For actual trials 25kg bags can be delivered.
If trial materials are sent to Gough Engineering please submit all relevant material safety data sheets with the material.
Certain materials require a full lab clean down and subject to clean-up costs
Holding materials for prolonged time periods may result in holding costs
Have an Need for Testing or material Assessment?
Call our team of highly skilled engineers to discuss your requirements on 01782 567770 or fill out our online enquiry form.