WORLD CLASS Screening Equipment For Hire
Short to medium term sieve or screening equipment hire, ideal for developing a new production process or completing a temporary production run.
Hire Sieving & Screening Equipment
Gough Engineering is able to supply sieve and screening equipment hire for short or medium term use – we recognise that hire equipment is ideal for developing a new production process or completing a temporary production run using one of our machines, and as a result, offer it as an option.
Typical equipment depending on availability. List includes:
Gough Batch Sieve (GBS)
Gough Vibrecon Separator (GVC) Multideck
Gough Vibraflo Separator (GVF)
Linear Vibratory Screens (GLVS 1 or 2 deck)
Hopper and vibratory Feeder (GLVF)
All subject to hire agreement and hire conditions.
Please get in touch with details of your application – we'd be delighted to help.
As part of our service, we maintain a small range of equipment that we make available for a short to medium term hire period.
This equipment is always kept to also run product trials to assess material flow and identify suitable mesh/perforated plate aperture sizes. The trials are conducted in our in-house lab and a full report can be made with video for further analysis.
As well as general vibration screening we also have ultrasonic capabilities for certain mesh sizes, and in some applications prove beneficial to overcome blinding.
Sieves and screens can be supplied with the appropriate meshes and screening plates, and delivery can be arranged anywhere in the UK.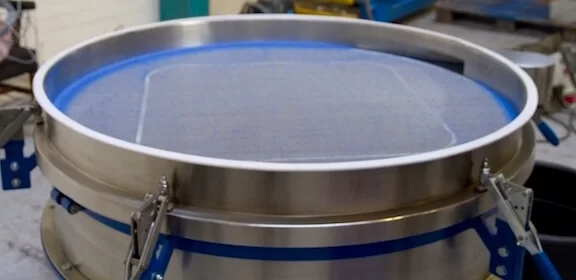 Solutions Explained
Batch Sieve (GBS)
The batch sieve is a scalping machine utilising a single screen. Main product flow travels through the screen and collected directly underneath the sieve and support frame. Oversize particles rest on top of the screen, with no automatic flow out to a discharge spout.
Vibrecon (GVC)
The Vibrecon has a more complex vibration, this time producing vibration in the vertical plane as well as circular. This combination allows material to move across 1, or 2 screens and distributed out using dedicated spouts.
Fractions
1 screen produces 2 fractions
2 screens produce 3 fractions
3 screens produce 4 fractions
Vibraflo (GVF)
The Vibraflo machine uses a single screen only, with two out-of-balance motors for excellent throughput of main product flowing through the machine and collected like the batch sieve underneath the support frame. The oversize particles are distributed out using its own discharge spout.
Linear Screen (GLVS)
The Gough linear vibratory screen is a rectangular screen vibrated using either twin out-of-balance motors and vibrates material across 1 or 2 screens. Linear machines can perform two objectives:
Perform screening of material.
Travel material from position1 to 2 over a distance of say 1.2 meters.
Have an Enquiry?
Call our team of highly skilled engineers to discuss your requirements on 01782 567770 or fill out our online enquiry form.