WORLD CLASS PRODUCT HANDLING EQUIPMENT
Hydraulic or pneumatic tipping systems capable of lifting and tipping any weight of container up to a height of two metres.
Hydraulic & Pneumatic Tippers Information
These tippers are hydraulic or pneumatically powered systems for lifting and tipping a variety of containers safely and securely.
The systems greatly reduce health and safety problems relating to manual handling by providing a safer and more reliable alternative to manually emptying or manually lifting large and cumbersome containers. Removing the human element also increases the reliability of the process, reducing spillage and improving timings.
Almost any weight of product can be raised to tip up to a height of 2 metres, and significant operational flexibility can be given by mounting the units on castors.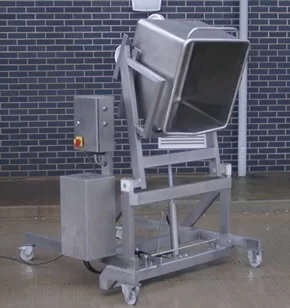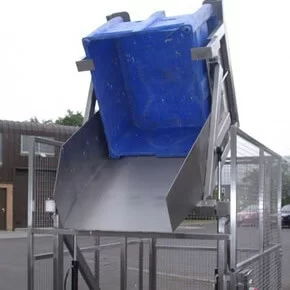 Key Advantages of Hydraulic & Pneumatic Lifts and Tippers
Safe Handling

– By removing the need for manual handling, the risk of injury in the workplace is greatly reduced.

High Lift Capacities

– Robust engineering means heavy loads can be elevated and deposited safely and reliably.

Reliable Discharge

– The repeating mechanical action gives a consistent and controlled product feed.
Hydraulic & Pneumatic Lifts and Tipper Design
Diverse Solutions – Along with standard containers such as tote and euro bins, systems can be developed to lift almost any type of container.
Food Industry Standard – All systems are available in specifications suitable for use in the food and pharmaceutical industries.
Mobility Options – Many systems can be made into mobile units, allowing greater operational flexibility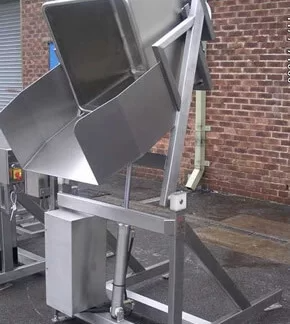 WHY CHOOSE GOUGH?
We supply Bucket Elevators to some of the world's biggest brands.
Learn more about Hydraulic & Pneumatic Tippers
Here at Gough Engineering, we enjoy keeping on top of the latest industry news, events and innovations. Read our case studies to find out how our Hydraulic & Pneumatic Tippers are put to use.
Wood Pellet Screening System
The Task One of the UK's largest manufacturers and distributor of pet supplies contacted Gough Engineering looking for a
Read Case Study
Have an Enquiry?
Call our team of highly skilled engineers to discuss your requirements on 01782 493332 or fill out our online enquiry form.