WORLD CLASS PRODUCT HANDLING EQUIPMENT
Lifting and tipping systems, capable of safely and securely lifting and tipping heavy containers up to any elevation.
Chain, screw, hydraulic or pneumatic lift and tipping systems are a safe and effective method of elevating bulk product containers within a production facility.
The systems give a huge benefit to health and safety by reducing manual handling requirements, which are one of the main causes of workplace injury.
The systems lift and tip in one action, and can be built to lift almost any container, elevating to over six metres.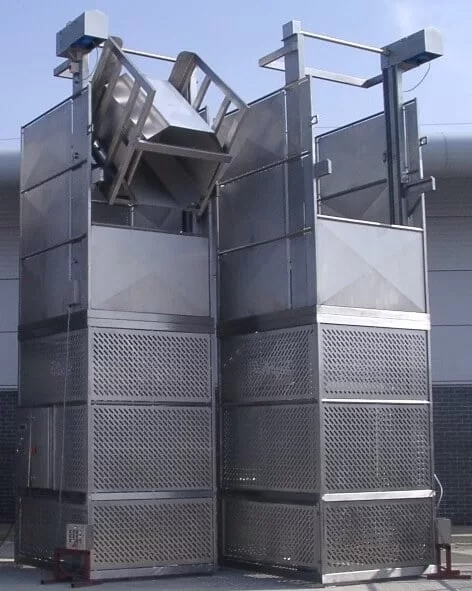 Key Advantages of Lifts and Tippers
Small Footprint

– The systems are designed to have a small footprint and can be slotted into tight working environments.

Safe Handling

– By removing the need for manual handling, the risk of injury in the workplace is greatly reduced.

Mobility Options

– Many systems can be made into mobile units, allowing greater operational flexibility.

High Lift Capacities

– Robust engineering means heavy loads can be elevated and deposited safely and reliably.
Lift and Tippers Applications
The lifting and tipping systems can be applied to achieve a wide range of product handling requirements, providing consistent and reliable product transfer.
Food and pharmaceutical industry specification systems can be manufactured for lifting tote bins and industrial mixing bowls, as well as units for more industrial applications like hoisting drums and pallets.
The systems come with a range of personal safety features including guarding and 'dead man's handle' controls so they can be installed into busy working environments without raising safety concerns.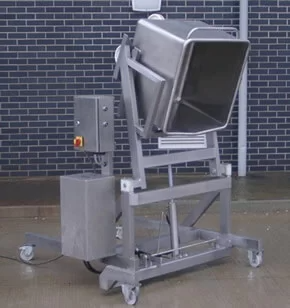 WHY CHOOSE GOUGH?
We supply Bucket Elevators to some of the world's biggest brands.
Learn more about Lift & Tippers
Here at Gough Engineering, we enjoy keeping on top of the latest industry news, events and innovations. Read our case studies to find out how our Lift & Tippers are put to use.
Recycling Conveying System
The Task A recycling company in the East Midlands required a complete conveyor system to transport rubber bales from
Read Case Study
Have an Enquiry?
Call our team of highly skilled engineers to discuss your requirements on 01782 493332 or fill out our online enquiry form.